"A Welcoming, Nurturing & Transforming Church Relevant to and Engaging Community and World with the Good News of Jesus Christ."
8am | 11:30am | 4pm (1st & 3rd Sundays)
Sunday 2 May 2021 Services @ 8am (Livestream) | 11:30am | 4pm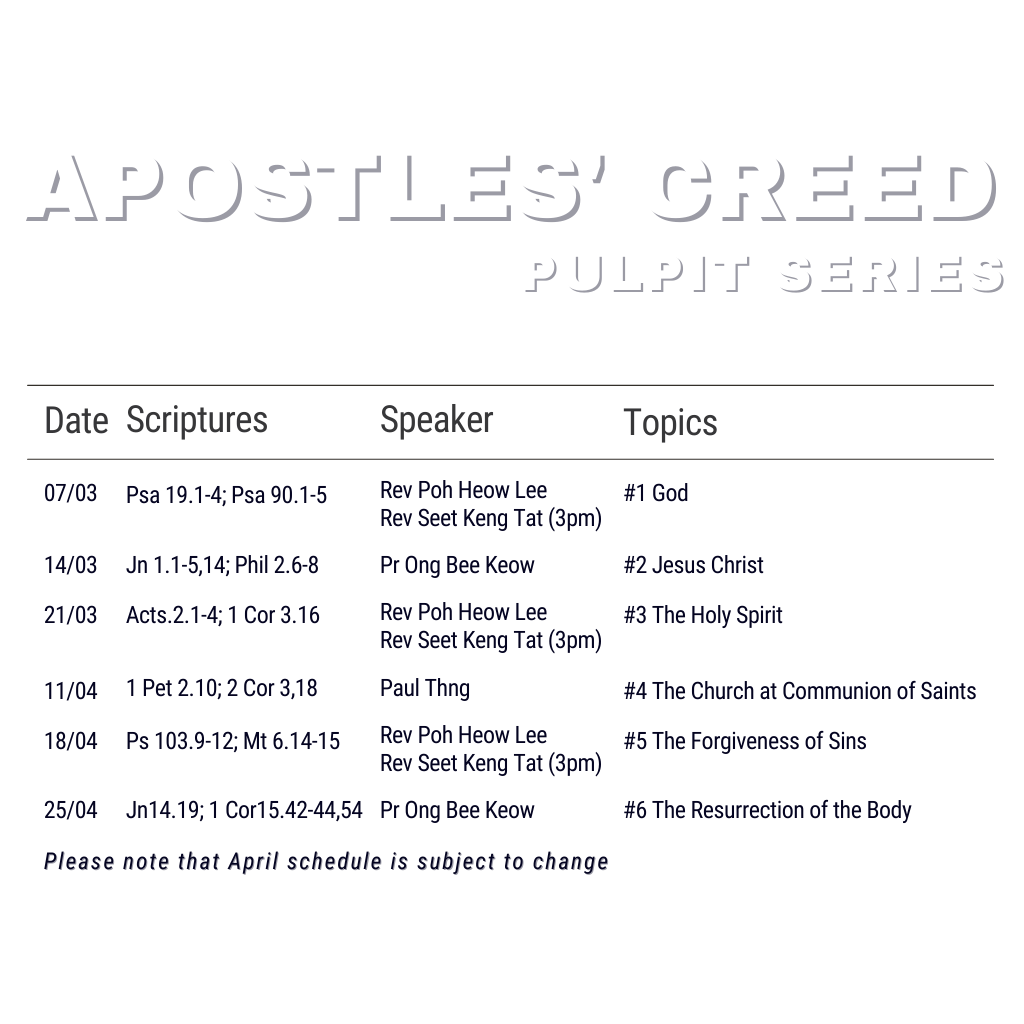 Apostles' Creed #6: "The Resurrection of the Body"
John 14.19; 1 Corinthians 15.42-44,54
Speaker: Rev Poh Heow Lee

Sunday 25 April 2021 Services @ 8:00am (Livestream) | 11:30am
Warmly in Christ,
Rev Poh How Lee
Bus Stop (07111) Broadway Hotel (Approx. 0.164 km away) Bus No.: 131. 139. 147. 23. 64. 65. 66. 67. 857
NE7/DT12 Little India MRT Station (Approx. 0.396 km away)
NE8 Farrer Park MRT Station (Approx. 0.514 km away)
DT13 Rochor MRT Station (Approx. 0.566 km away)
EW12/DT14 Bugis MRT Station (Approx. 1.053 km away)
Commercial Car Park (Approx. 0.045 km away)
Multi-storey Carpark (KEM1)(Approx. 0.091 km away)
Surface Carpark (BKE1)(Approx. 0.113 km away)
Therefore, I urge you, brothers and sisters, in view of God's mercy, to offer your bodies as a living sacrifice, holy and pleasing to God—this is your true and proper worship. 2 Do not conform to the pattern of this world, but be transformed by the renewing of your mind. Then you will be able to test and approve what God's will is—his good, pleasing and perfect will.
On-site Communion is for Baptised members of FMC.
You can Register for yourself or for the members of your Household of up to 8 people. (Including toddlers and children)
Select only one Service timing.
Each Service can only accommodate up to 100 members.
Members 75 yrs and older are strongly urged to remain home.
After Registering, wait for the Confirmation that will be given to you.