Started in 1897, Foochow Methodist Church is the second oldest church in the Chinese Annual Conference of the Methodist Church in Singapore. Through the years, we have witnessed and experienced God's faithfulness, grace and work in and through her. We warmly invite you to be a part of this family and and story He is weaving right here and now.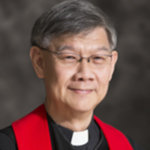 Pastor-in-charge's Update
Dear FMCians,
1. Loving Our Family – No One Left Behind
We desire salvation for our unsaved Family members.
Yes, for many of us it is a challenge.
It's not easy to share the Good News to a family member. They see beyond our words. They know who we are. We are not without sin. They have seen and experienced our strength and weaknesses. Yet we really desire Jesus in their lives. We so need God's grace and wisdom for the right words and opportunity. In faith we cry for God's steadfast love upon them.
But God has placed us into a praying community, Foochow Methodist Church. We can have the needed prayer support. That's the plan for "Loving Our Family". A church praying together.
To date, we are praying for the 60 names received from the Mandarin and Foochow congregations; and the 40 names from the English congregations. I know there's more names coming. Let's support each other in prayer.
Send us your testimonies. https://tinyurl.com/pegmytestimony
How has God encouraged your praying? Can you share this and encourage the church? Your testimony can come in a variety of ways. You can write it. We will help you by editing it for the Sunday Bulletin. You can give us an audio recording. Use your phone and record. And what about a short video clip? We will vet and see if it can be screened during the worship service. Tell us how God has challenged / answered your prayers. Encourage us as God has encouraged you.
Send us your names for prayer. Send us your testimonies.
Loving Our Family – No One Left Behind.
2. On-site Sunday Services
Thank God that from 29 August, we have more capacity for our worship services.
Do you know any member who hasn't returned to church for worship? Encourage them to return to Church.
I understand the concern of self and family over the health of family members and the seniors. Community spread is evident. I understand the challenges of health and fear of vaccination. May they be informed decisions. We must however turn to God if our lethargy to return is founded on weak foundations.
Before COVID-19, "worshipping God together in church" was key to spiritual growth.
That still has not changed.
Have we spent more time with God in our daily devotions? Have we set aside reflection and study to deepen our walk with God?
The Measures also challenge us to consider other ways of fellowship. What about the lost art of phone calling (if you are already ZOOM- fatigued). We still can call and establish connection, fellowship and support. Decide to set aside time to call, and share what God is doing in your life. Practice spiritual conversations.
During this uncertain and disruptive time of COVID-19, we are still able to be close to God and man. We are still able to obey the call to share our Faith.
Blessings!
Rev Poh Heow Lee
September 2021
Visit us at our Sunday Worship Services.
Livestreaming services will still be on-going every Sunday.  You can continue with the Online Worship Service either LIVE on our YouTube Channel or catch-up at your own time if you are unable to join the livestream.
Rooting ourselves in the Bible and Jesus Christ, we seek to learn and grow in our faith, as a result bearing lasting fruit, being salt and light of the world. 
(Matthew 5:13-14).