Started in 1897, Foochow Methodist Church is the second oldest church in the Chinese Annual Conference of the Methodist Church in Singapore. Through the years, we have witnessed and experienced God's faithfulness, grace and work in and through her. We warmly invite you to be a part of this family and and story He is weaving right here and now.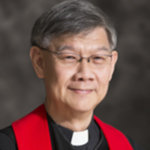 Pastor-in-charge's Update
Dear FMCians,
Greetings to all.
I like to share our efforts to improve our Worship and open up ministry efforts.
Thank you all for your patience and prayers for the church.
Increased Congregational Capacity
We have been working on increasing the capacity for congregational worship.
We aim to have Level 2 Sanctuary approved for 3 Zones of 50 ie 150 pax.
Level 3 Sanctuary already has 1 Zone. We will have 2 Zones soon.
That will be a total of 5 Zones (A – E) capacity of 250 pax.
Live-Stream Capability
Our volunteer teams have been working really hard on this.
We do continue to need adjustments. But we are on the way. The intention is to make both Sanctuaries at Level 2 and Level 3 Live-stream capable.
A Shelter for All
Tentage will be put up to provide shelter from the Rear Gate to the building.
What does this mean for our Sunday Worship?
Weekly On-Site Services from April
Service Timings will be put up next Sunday.
We plan to have weekly Mandarin, Foochow and English Sunday morning services
Each language service will be live-streamed so that we can all worship together.
We need every member to co-operate and register early as Registration becomes weekly.
We need more volunteers for Table, Usher and PA / AV duty in order to sustain these weekly services
Easter Sunday 4 April
We are going to launch our on-site Weekly Services on Easter Sunday.
We invite all to come together and celebrate Communion.
The Mandarin and Foochow congregations will combine for service at 10.30am.
The English congregations will gather at 8.30am.
Both these services will be Live-streamed.
We will just have these 2 services on Easter.
Tamil service will be in the evening.
Note that our Baptism this year will be on Pentecost Sunday.
The MCCY COVID-19 measures are still enforced. Paths and timings to prevent mingling and interaction between zones and congregations. Unmasked Praise team when scheduled. Congregational singing is still disallowed; likewise, food and drinks in church. And yes, worshippers still need to leave the church premises and not congregate for interaction after the worship services.
Yes, we cannot look back to having pre-COVID-19 church practices. But we can continue to pray for fresh approaches for church. Let's pray and ask God to help us adjust to necessary changes. We will pray for God's mercy on His people. We will continue to pray for our Government and leaders to make wise decisions. We cannot slack and be complacent even with the country's Vaccination efforts.
I will update on ministry re-opening in the next opportunity.
Meanwhile, it is time to return to church for worship.
Rev Poh
March 2021
Visit us at our Sunday Worship Services.
Livestreaming services will still be on-going every Sunday.  You can continue with the Online Worship Service either LIVE on our Youtube Channel or catch-up at your own time if you are unable to join the livestream.
Rooting ourselves in the Bible and Jesus Christ, we seek to learn and grow in our faith, as a result bearing lasting fruit, being salt and light of the world. 
(Matthew 5:13-14).